Warning
: Invalid argument supplied for foreach() in
/home/nclexion/public_html/wp-content/themes/jnews/class/ContentTag.php
on line
47
Skin assessment is an essential nursing skill that involves the holistic assessment of patients' physical, psychological and social needs
Abstract
In 2018, the Nursing and Midwifery Council published Future Nurse: Standards of Proficiency for Registered Nurses, which emphasised the vital role nurses have in assessing skin, managing skin conditions and maintaining skin health. Undergraduate nurse education often focuses on prevention of pressure damage, yet nurses in all fields of practice will care for patients who have chronic skin conditions, such as eczema and psoriasis. It is vital that they can carry out a skin assessment and refer patients for specialist advice when required. This article provides an overview of how to assess skin and the terminology used to describe it. It is accompanied by a case study of a child with eczema herpeticum and reflections on his care by his mother, who is a registered nurse.
Citation: Lawton S, Turner V (2020) Undertaking an assessment of the skin using a holistic approach. Nursing Times [online]; 116: 10, 44-47.
Author: Sandra Lawton is nurse consultant and clinical lead for dermatology, the Rotherham NHS Foundation Trust; Victoria Turner is a qualified nurse but co-authored this paper as a postgraduate student nurse.
This article has been double-blind peer reviewed
Scroll down to read the article or download a print-friendly PDF here (if the PDF fails to fully download please try again using a different browser)
Introduction
Nurses working in a variety of settings will care for patients of all ages presenting with a skin condition. Around 54% of the UK population experience a skin condition in any given 12-month period; of these 69% will manage the condition themselves and 14% will seek further medical advice, usually from a doctor or nurse in the community (Schofield et al, 2009). Despite the number of people experiencing them, skin conditions are often trivialised with dermatology perceived as a 'Cinderella' specialty. Lay people and many health professionals historically regarded skin diseases as dirty, repulsive and abhorrent (Linn, 1956). This article challenges these assumptions by highlighting the importance of undertaking a comprehensive assessment of patients presenting with a skin condition. A case study of a child with eczema herpeticum is used to explore these issues and his mother, who is a qualified nurse, reflects on her experience as a parent and health professional while managing her child's health.
Skin assessment
Skin assessment includes a dermatological, psychological and psychosocial history of the patient alongside a physical examination. Throughout the assessment process, nurses should use four of their senses – hearing, sight, touch and smell – to gather information.
Dermatological history
Dermatological history should include basic demographics (for example, age and occupation). The following points should be explored with the patient:
Nature, site and duration of the problem;
Initial appearance and evolution of the rash;
Symptoms such as pain and itching;
Aggravating and relieving factors and interventions that have been tried;
Recent travel;
Recent illnesses;
Family history of skin disease;
Past medical history;
Atopic history, including eczema, asthma and hay fever;
Allergies;
Medications including medicines that are:

Currently used or have been used in the past;
Prescribed and over the counter;
Bought on the internet;
Borrowed from friends and relatives;

Social history;
Constitutional symptoms, including weight loss, fatigue and pain (Fitzpatrick et al, 2001).
A comprehensive history will provide clues that will help inform the physical examination of the patient.
Psychological and psychosocial history
The impact that skin conditions can have on patients and their families should not be trivialised. The effect on quality of life has been shown to be greater for some chronic skin conditions, such as psoriasis, than for life-threatening and non-dermatological conditions, such as cancer (Schofield et al, 2009).
It is important to assess this impact and there are many assessment tools available to support clinical practice (see resources box for more information).
Physical skin assessment
Following the initial history taking, the skin should be examined systematically in a warm, well-lit room with natural light. It is considered best practice to examine the whole skin working from the top down, including the hair, nails, skin creases and folds, and to note any unusual odours or smells – which could indicate infection, continence problems or poor care. This should be explained to the patient and their family, who may be anxious about undressing.
Intimate examinations can be embarrassing and even distressing for patients, and their religious and cultural backgrounds should be considered. The assessment is likely to include examinations of breasts and genitalia and you will need to be close to and usually touch the skin. It is important to follow best practice guidance relating to intimate examinations and ensure that you:
Explain to the patient what the examination will involve, in a way they can understand, so that they have a clear idea of what to expect, including any pain or discomfort;
Obtain the patient's consent before the examination and record it in the patient's notes
Offer the patient a chaperone;
Assess the patient's capacity to consent to the examination. If you are working with a child, young person or adult who lacks the capacity to consent, you should seek a parent's or carer's permission to proceed;
Give the patient privacy to undress and dress, and keep them covered as much as possible to maintain their dignity; do not help the patient to remove clothing unless they have asked you to;
Explain what you are going to do before you do it, and if, during the examination, this differs from what you have told the patient at the start, explain why and seek the patient's consent to continue;
Stop the examination if the patient asks you to;
Keep discussion relevant and do not make unnecessary personal comments (General Medical Council, 2013).
During the examination, the skin should be palpated. This will provide clinical information about the texture and temperature of the skin, the surface characteristics and type of lesions. The description of the lesions should include:
Character – signs of redness (erythema), scaling, crusting, exudate, excoriations, blisters, erosions, pustules and papules. Are the lesions all the same (monomorphic), such as a rash associated with side-effects of medicines, or variable (polymorphic), such as chickenpox?
Shape – small, large, annular (ring shaped), linear (line), serpiginous (snakelike), umbilicated (a central navel-like depression);
Arrangement of multiple lesions – grouped or disseminated, scattered discrete lesions or diffuse;
Distribution – isolated single lesion, localised, regional or generalised. Is it acral (occurs on the hands and feet), present on extremities of ears and nose, in light – exposed areas or mainly confined to the trunk?
Lesions are further classified as primary lesions – which present at the initial onset of the disease (Table 1), or secondary lesions – which result from changes over time caused by disease progression, manipulation including scratching, rubbing and picking, or from treatments applied to the skin (Table 2).
Skin of colour
It is important to be aware of the different presentations seen in skin of colour. For example, lesions which appear as red or brown in white skin may appear as black or purple in skin of colour with mild redness (erythema) often missed. Skin inflammation commonly leads to post-inflammatory pigmentary changes lighter  (post-inflammatory hypo-pigmentation) and darker (post-inflammatory hyper-pigmentation). This can persist for a long time after the initial inflammation and is often of great concern to patients who think their skin is permanently scarred and, is more obvious in skin of colour  (Lawton, 2015).
Additional diagnostic tests
As part of the assessment and diagnosis, further investigations and diagnostic tests may be required, for example:
Diagnostic biopsies – histological examination and immunofluorescence, which looks at the role of the immune system in many blistering skin conditions, for example bullous pemphigoid;
Microbiological samples of scales, crusts, exudate and tissue (including hair and nails) to identify the presence of yeasts, fungus, bacteria, viruses and parasites;
Blood sampling to help with diagnosis and for monitoring drug therapies for safety and effectiveness;
Allergy testing – patch testing and skin-prick testing (Primary Care Dermatology Society, 2019; DermNet NZ, 2016).
Case study
In this section, Victoria Turner reflects on the case of her son Roman, who had an episode of eczema herpeticum.
Roman's story
Roman has no family history of skin disease but he developed eczema when he was seven weeks old and food allergies to soya, legumes, eggs and nuts were identified; an EpiPen auto-injector was prescribed. Following his eczema diagnosis, he was prescribed a variety of topical mild, moderate and potent corticosteroids but only the potent steroids were effective.
Roman has very sensitive skin and has reacted badly to different topical treatments, lotions and creams. He currently uses a moisturiser daily for maintenance of his skin, topical steroids, Cutivate (fluticasone propionate 0.05% w/w cream) for flare-ups of eczema to his body, Betnovate RD to his face, and antihistamines at night to reduce itching. These may also be used in the day if a food reaction occurs. Heat appears to aggravate Roman's symptoms, causing him to scratch, so we installed a fan in his bedroom to keep him cool. Cotton bedding and clothing are used and we replaced carpets with vinyl flooring in an attempt to improve his symptoms.
In October 2018, when Roman was nearly two, we attended a family wedding and had contact with a boy whose brother was at home with chickenpox. A few days later Roman had his first swimming class and afterwards he developed a high temperature and looked very unwell. He was treated with paracetamol to try to reduce his temperature, but he experienced rigors and started to develop spotty blistered areas around his eczema on his knees, thighs, arms, hands and feet (Fig 1).
I took him to his GP who suggested it could be eczema herpeticum – a rare and serious skin infection usually caused by herpes simplex virus type 1 or 2 that is considered a dermatological emergency. The National Institute for Health and Care Excellence (2013) list the signs as:
Areas of rapidly worsening, painful eczema;
Clustered blisters similar to the early stage of cold sores;
Punched-out erosions (circular, depressed, ulcerated lesions) usually 1–3mm that are uniform in appearance;
Possible fever, lethargy or distress.
There were no spots on Roman's front or back; they were only present in eczematous areas, so the GP telephoned an on-call dermatologist who suggested that, given the possible contact with chickenpox, this was like to be the cause of his skin problems. The GP asked us to come back after the weekend so Roman could be reassessed.
By Monday morning, Roman's spots had worsened and we returned to the GP, who diagnosed eczema herpeticum and arranged an urgent hospital admission (Fig 2). Roman required treatment with two intravenous antiviral drugs three times a day.
Reflection as a mother
Every day I feel so much guilt for not knowing about infected eczema and how I could have spotted the signs sooner. I knew something was not right and did not feel happy with Roman's initial diagnosis of chickenpox.
Reflection as a student
After this event with Roman, I wanted to ensure that health professionals could gain an understanding about eczema and signs to look for when eczema becomes infected. I devised a very simple flowchart (Fig 3) as part of my course to help health professionals, patients and their families to understand the signs of infected eczema.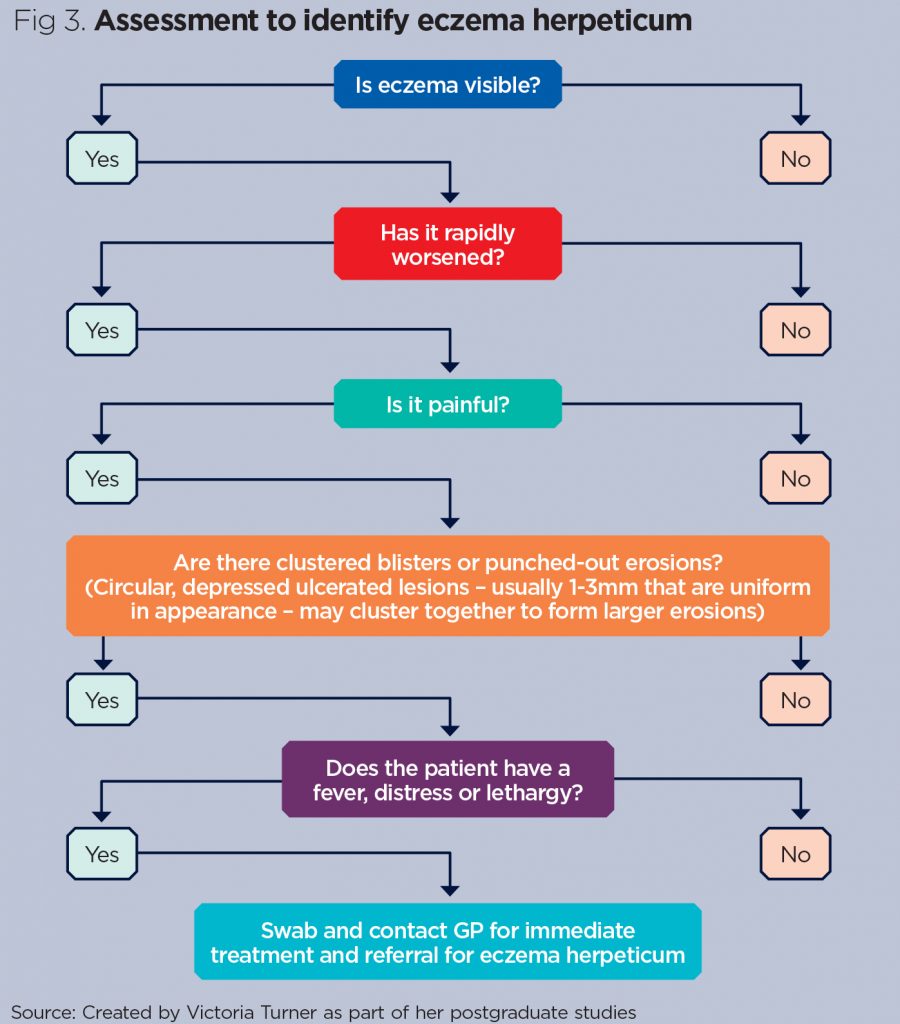 Reflection as a registered nurse
When my son was initially seen by the GP, he did not receive a dermatology assessment. This resulted in a delay in his diagnosis and treatment. As we move toward wider use of telephone consultations in general practice, I am aware that skin conditions need to be seen and cannot be diagnosed by telephone.
My postgraduate course did not specifically cover common skin conditions and the main skin-related focus was on pressure ulcers. This begs the question do we need specific education and training for student nurses and registered nurses to understand more about skin conditions and how to manage them?
Discussion
In the UK, GPs and practice nurses are the first point of contact for people with skin conditions, which are the most frequent reason for consultation in general practice (Schofield et al, 2011). Knowledge of the prevalence and incidence of skin conditions is a prerequisite for designing clinical services and providing appropriate and continuing education for primary healthcare professionals (Schofield et al, 2011).
An appropriately trained health professional should be competent to take the patient's history and undertake skin examination. Dermatological symptoms may be part of a general medical or psychological disorder, so accurate and reliable history taking is important, as is a holistic assessment of each patient's needs (Primary Care Commissioning, 2011). Skin integrity is clearly highlighted in the Nursing and Midwifery Council's (2018) standards of proficiency for registered nurses. Nurses should be able to:
Undertake a whole-body systems assessment including respiratory, circulatory, neurological, musculoskeletal, cardiovascular and skin status;
Use contemporary approaches to the assessment of skin integrity and use appropriate products to prevent or manage skin breakdown;
Identify and manage skin irritations and rashes;
Demonstrate the knowledge, skills and ability to act as a role model for others in providing evidence-based, person-centred nursing care to meet people's needs related to mobility, hygiene, oral care, wound care and skin integrity.
In light of this, we ask the question: is our future workforce equipped to achieve these standards?
Key points
Nursing and Midwifery Council proficiency standards emphasise the important role of the nurse in skin care
The effects of chronic skin conditions on quality of life should not be underestimated and for some patients it can be worse than a diagnosis of cancer
A comprehensive history taken prior to the physical skin assessment will provide clues and signpost the nurse to a possible diagnosis and
plan of care
It is important to be aware of the different presentations seen in skin of colour
References
DermNet NZ (2016) Dermatological Investigations and Tests. DermnetNZ.
DermNet NZ (2014) Terminology. DermnetNZ.
Fitzpatrick TB et al (2001) Color Atlas and Synopsis of Clinical Dermatology. McGraw-Hill.
General Medical Council (2013) Intimate Examinations and Chaperones. GMC.
Lawton S (2015) Skin assessment can be overlooked. Skin Care Today; 1: 1, 16-19.
Lawton S (2005) Assessing the patient with a skin condition. Practice Nurse; 30: 5, 43-48.
Linn LW (1956) Dermatology: Cinderella or princess? Australian Journal of Dermatology; 3: 3, 109-115.
National Institute for Heath and Care Excellence (2013) Atopic Eczema in Under 12s: Quality Statement 7: Treatment of Eczema herpeticum. NICE.
Nursing and Midwifery Council (2018) Future Nurse: Standards of Proficiency for Registered Nurses. NMC.
Primary Care Commissioning (2011) Quality Standards for Dermatology: Providing the Right Care for People with Skin Conditions. PCC.
Primary Care Dermatology Society (2019) Dermatology the Basics: Investigations. PCDS.
Schofield J et al (2011) Skin conditions are the commonest new reason people present to general practitioners in England and Wales. British Journal of Dermatology; 165: 1044-1050.
Schofield J et al (2009) Skin Conditions in the UK: A Health Care Needs Assessment. Centre of Evidence-Based Dermatology, University of Nottingham.