Warning
: Invalid argument supplied for foreach() in
/home/nclexion/public_html/wp-content/themes/jnews/class/ContentTag.php
on line
47
As the pandemic was emerging in the UK, I began to become increasingly concerned about my commute to work on packed buses and tubes. I was worried that in London there did not appear to be any slowing down.
Each Monday would arrive, and again I would hope that I would manage to get onto one of the packed buses so that I could get to work. It was a Monday morning in March, I was at work in the office and I went to make myself a cup of coffee.
I was speaking with a colleague, going about my day as usual. I went to take my first sip of my freshly brewed coffee to be struck not by the taste of the coffee, but in fact no taste at all
I paused for a moment, took another sip, then another… still no taste. I soon realised I could not smell either. It was so profound, suddenly two of my senses were gone.
I was feeling quite tired that morning but I didn't think much of it, however, with the loss of taste and smell I knew something was wrong. I mentioned this to a colleague, who informed me there was some brief mention on the news that morning that loss of taste and smell could be a symptom of Covid-19.
In that moment I did not hesitate, I picked up my bag and left the building, making my way home, messaging my boss en-route to explain that I would be self-isolating.
"This was very different from any ICU nursing I had experienced before"
During the days that followed I suffered with headaches and lethargy, with only the return of my senses two weeks later. Having since spoken with other colleagues, I feel lucky that my taste and smell returned, others have not been quite so fortunate.
Following my self-isolation period, after two weeks I returned to work during what was now the peak of the pandemic. I decided to approach my boss and re-deploy myself to go and work in the intensive care unit (ICU).
This was very different from any ICU nursing I had experienced before, caring for multiple patients all with very complex needs. It was clear that to sustain any level of good fundamental care for these patients that extra support would be needed.
Early on in my time of the re-deployment phase I was approached by a dental nurse, named Olu. This was my first ever experience of seeing a dental nurse in an ICU, and I have worked in various ICUs over the last 15 years.
From the moment I met Olu I was struck by her warmth, even through all the personal protective equipment (PPE) I could see pure kindness in her eyes, and from the way Olu spoke.
As a nurse I have always had a real passion for ensuring we provide effective mouth care for our patients, and even more so in ICU. Olu was like an angel that landed, fully prepared with her oral hygiene kits, she attended to every patient in the ICU.
This was no one off either, Olu returned every day. And what really struck me, was that she said she made the decision to attend the now expanded ICU (at Charing Cross Hospital) as soon as Covid-19 hit, so that she could support the staff and ensure the patients oral care needs were being met. It was clear that Olu did not hesitate in making this decision.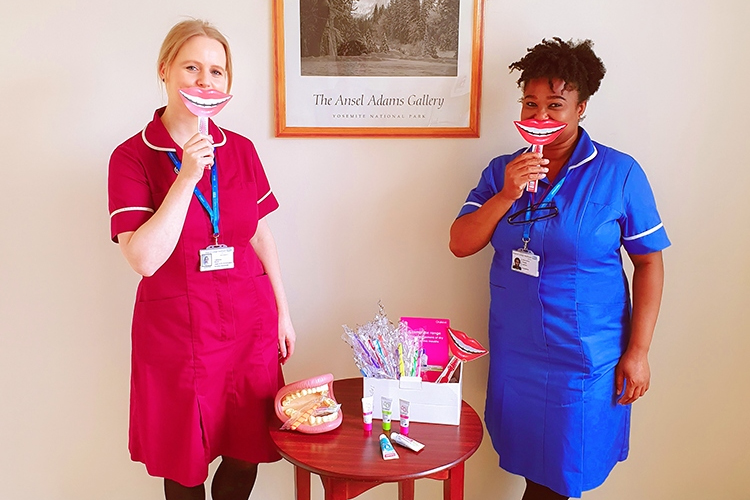 Not only this, Olu spoke with staff, checked that they were okay, and offered support and encouragement every step of the way. She even reassured staff who had their own worries in terms of their oral hygiene, myself being one of them. I had braces fitted and I had not seen an orthodontist at this point in several weeks.
I was unsure as to when I would be able to again. Olu provided me with reassurance and insisted that when she next sees me, she will provide me with some useful dental cleaning sticks.
She kept to her word and I will be ever grateful to her not only for taking care of the patients, but also her colleagues.
This was a memorable experience of teamwork and core values displayed at their finest – a memory I will cherish forever.
Since this experience, Olu and I have stayed in touch and created networks at our place of work sharing our experiences with others.
One of my greatest enjoyments of being a nurse is the freedom and ability to network with others. I believe this is an invaluable gift in the world of healthcare.
Catherine Moore is lead nurse for practice development and innovation, Imperial College Healthcare NHS Trust